3 Easy Ways To Increase Average Order Value for Shopify Fashion Stores
Increasing your average order value is one of the best ways to make more money without significantly increasing your traffic. So by making more money on each transaction and having good margins on your products, you can make your store more profitable.
First, What Is an Average Order Value (AOV)?
The average order value is the average dollar amount a customer spends when placing an order on your store.
You can calculate your store's  AOV by dividing your store's total revenue by the number of orders taken in a certain period. This is the easiest way to calculate it. However, keep in mind that there are business expenses such as advertising that isn't taken into account in this formula.
Total revenue / number of orders = average order value

To increase your average order value, you'll need to convince your customers to add more items to their cart. Let's talk about 3 easy step on how to do that.
1.Optimize for Mobile First Experience
High-volume fashion e-commerce brand Merchology recently optimized its site for a mobile-first experience.
Within a month after the mobile optimization, the company made a more positive first impression with mobile customers and the site achieved:
340% YoY increase in revenue per mobile device
40% lift in mobile conversion rates
With such numbers, It's important to focus on a mobile-first experience and optimize for mobile.
2. Up-selling and cross-selling for Fashion Stores
A great way to increase your average order value is by up-selling and cross-selling items on the product page. Most tactics for fashion stores are inefficient because they are engaging with your customer. The existing solutions are simply doing guesswork to figure out what your customer might like.
Fortunately, our app "Shop The Look" solves this brilliantly. When your customer opens up a product, they are highly interested in what the modal is wearing, so when you ask them, "hey would you like to shop the whole outfit?" There is a very high chance, the answer will be a resounding yes.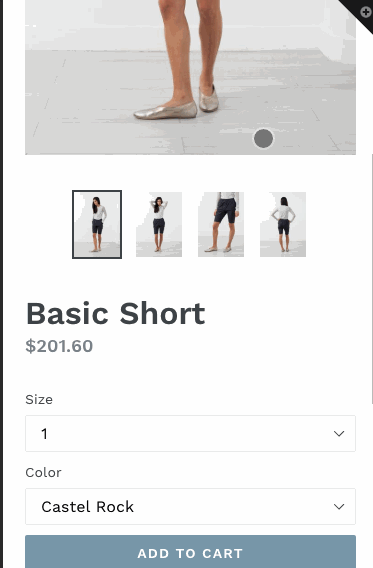 3. Increase credibility by adding honest reviews
A study by Spiegel Research Center and PowerReviews found that "even negative online reviews can be helpful, as retailers that display online reviews see conversion rates rise by as much as 270 percent, with higher-priced and higher-consideration items benefiting more."
For a more detailed article on how to increase credibility for fashion stores through reviews, check out this article.
In conclusion, optimizing for mobile, setting up recommendations and showcasing honest customer feedback can increase your revenue without increasing your traffic.